The Télécom Paris building houses a restaurant and two cafeterias with a capacity of 1000 covers per day. These areas are open to all students and staff on the Institut Polytechnique de Paris campus.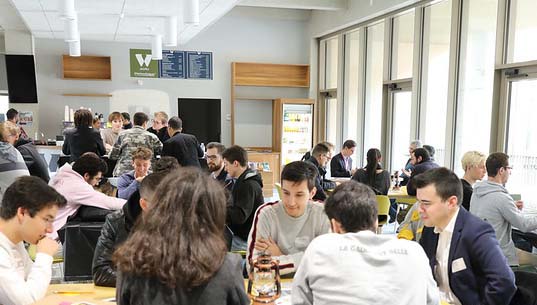 The restaurant "Le Wan" is a self-service restaurant. It is open from 11:30 AM to 1:45 PM and can serve 800 meals per day.
The cafeteria "Le Weeky" is adjacent to the restaurant and is open every day from 8 AM to 3 PM. Drinks, pastries and snacks are available to eat in or take away.
The cafeteria "Le Worko", next to the Documentary and Digital Resources Centre (Library) on the 2nd floor, is open from 8 AM to 3.15 PM. Hot drinks and snacks are offered continuously.
Other catering facilities are available to our students, staff and guests in the immediate vicinity of the School