A unique, new high-quality training program offered by two top engineering schools specialized in digital technology and transportation: Télécom Paris and École des Ponts ParisTech.
A select group of founding corporate partners.
Presentation
Anticipate and drive the digital transformation of transportation
Digital technologies are ubiquitous in all forms of mobility. Travelers enjoy a wide range of simple yet powerful solutions and an ever-growing number of innovative services to plan their trips. On the supply side, customer relations, operations, maintenance and  investment planning are changing dramatically. New uses made possible by autonomous vehicles, car sharing and carpooling have challenged mobility practices in profound ways, transforming value chains and business models.
The program consists of 4 units:
Introduction and overview
Information processing
Transportation systems
Design and management of services
The Post-Master's Degree in Smart Mobility offers high-level technical and managerial training with a focus on:
Existing technologies for the different stages of the information processing supply chain.
The application of technology to ensure and update functions, through increased use of more detailed data.
The interplay between the various components, whether related to manufacturing or sales, hardware or software, in order to improve systems.
Relationships between the different parties involved in mobility: cooperation, synergy, competition, regulation, system effects etc.
The program features extensive interaction with companies, through projects based on real data and industry events and focuses on group debate and analysis.
An example of close ties with businesses: support over the course of the program from our select group of founding corporate partners including Renault, SNCR, Setec and the Ile-de-France region.
The Post-Master's degree is accredited by the Conférence des Grandes Écoles and is a member of the French Mobility community.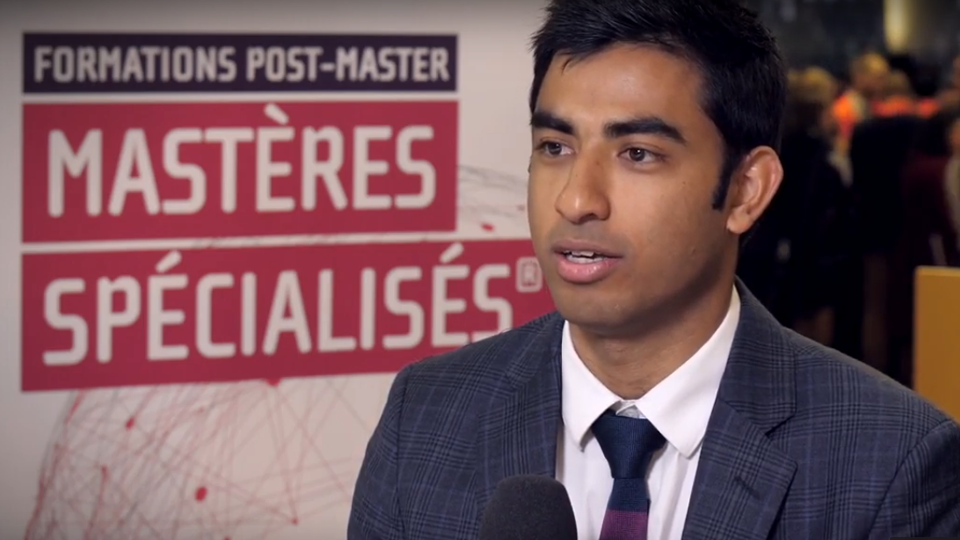 Program
The program takes place over a period of 11 months in a work-study format (6 days of courses per month) followed by a four-to-six month professional thesis internship.
Teaching
Courses are based on numerous case studies and real-world examples.
Faculty from both schools draws on a network of top experts including research professors and industry professionals.
Year-long project
This project puts a group of students in a professional situation in order to apply what they have learned. The projects are proposed by major companies and students work as a group with guidance from a teacher. Projects always focus on real data and real problems facing companies.
Professional theses
This program equips students with key skills and gives them the opportunity to apply the methods, techniques, tools and approaches they learn in their classes through a professional internship. When the problem explored in the thesis is related to a concrete aspect, as is often the case, it must present a sufficient theoretical level.
Target skills
Design, organize and plan a smart mobility system
Design and develop mobility services and solutions
Lead a "Digital Transition" project for a specific activity or within the transportation industry
Lead a "Smart Transportation System" project for a company or a public authority
Careers
The program is at the crossroads between two professional worlds:  the transportation industry, to prepare students to take part in the major digital transformation underway; and the computer science and IT industry, to provide students with an in-depth understanding of transportation systems, their processes and activities.
Major recruiters: Transportation service or infrastructure operators, manufacturers of transportation components or sub-systems, engineering and consulting firms, authorities responsible for mobility management or land planning, start-ups.
The Post-Master's Degree in Smart Mobility prepares students for a wide range of careers
"Digital transition" project manager for the transportation industry
Digital officer for a company that provides transportation services, manufactures items for transportation or specializes in designing and building systems and processes
Designer and developer of "transportation services," solutions architect
Transportation system design and planning
Program graduates are especially sought by large and small companies in the transportation and IT industries, as well as in the public sector:
Transportation service or infrastructure operators: for passengers or freight, within or between cities, for ground, air or sea transportation.
Manufacturers of transportation components or sub-systems: from sensors and effectors to spaces designed for travelers and vehicle, infrastructure and operational systems manufacturing.
Firms responsible for providing engineering and consulting services, designing and building systems and processes, project planning and digital service providers (ex: IT consulting and services).
Authorities responsible for mobility management or land planning: local authorities, mobility authorities, urban planning agencies etc.
Innovative digital start-ups involved in modernizing transportation.
The companies and institutions that have put their trust in us
The Post-Master's degree already benefits from the support of a select group of founding partners including
Setec and the Île-de-France region.
Mathieu Py

Director of the Post Master's Degree in Smart Mobility

École des Ponts ParisTech

email

email