Applicants must be :
Holder of an engineering degree authorised by the Commission des titres d'ingénieur (Bac+5), or
Holder of a diploma from a business or management school authorised to award a Master's degree (Bac+5), or
Holder of university diplomas at Master M2 level (ex DEA or DESS, Bac+5), or
Holder of a university degree at M1 or Master's level (Bac+4) and three years' professional experience, or
Holder of foreign diplomas of equivalent level.
Tuition and fees:
– Administration fees 150 €.
– 11900 € for students and job seekers
– 17000 € for professionals
Step 1: Apply
Applications must be submitted online. Applicants must upload all application materials in digital format via the application website.
Step 2: Personal interview
Selected applicants are asked to participate in a phone interview with the head of the Post-Master's degree program or his/her representative. The purpose of this interview is to get to know the applicant, understand his/her career goals and motivation, and ensure that these aspects align with the Post-Master's program. Applicants who successfully complete the phone interview are thus eligible for admission and their applications are presented to a panel.
5 application rounds per year
Round 1:
Application deadline: 03 February 2020
Admissions notification: 03 March 2020
Round 2:
Application deadline: 23 March 2020
Admissions notification: 28 April 2020
Round 3:
Application deadline: 25 May 2020
Admissions notification: 30 June 2020
Round 4:
Application deadline: 24 August 2020
Admissions notification: 02 September 2020
Round 5:
Application deadline: 17 September 2020
Admissions notification: 24 September 2020
The admission decision is made by an admission panel.
Four panels meet throughout the year to review the applications.
Applicants receive personal notification of the panel's decision by email. Admitted applicants have a priority registration period of 10 days to guarantee them a place in the program.
Apply
during the first round! Places are limited, so make sure your application is considered.
International students: Apply during the first or second rounds so that you have enough time to obtain a visa.
Would you like to request training through the FONGECIF (funding organization)? Apply no later than the second round.
Financing your studies
Please note that the law for the "freedom to choose one's professional future" is being enacted, so all the programs presented below may not yet be in effect.
Regardless of how you plan to finance your studies, you must first request a quote from the person in charge of business and administrative services for your Post-Master's degree program.
Personal training account – CPF
Program pending the full implementation of all the provisions of the law.
You can use your personal training account to pay for training by combining it with entitlement you have already accumulated: DIF (Individual Training Entitlement) and CPF. As of 1 January 2019, this entitlement is expressed in euros instead of hours of training, according to this chart: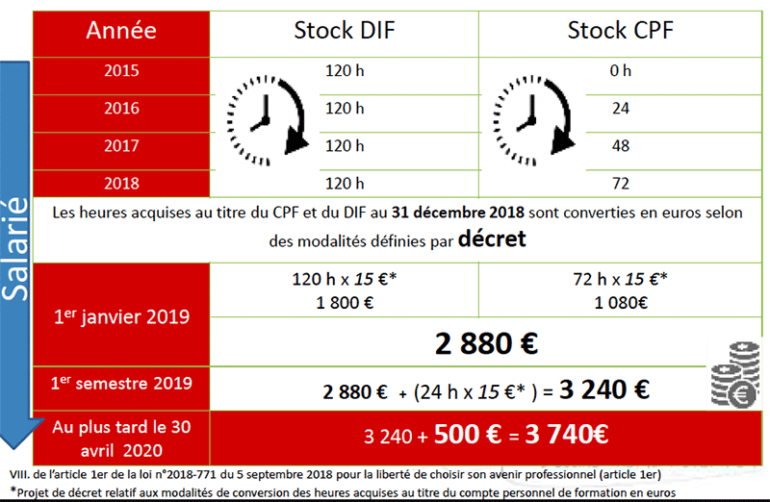 Our eligible training programs currently registered with the French National Directory of Professional Certification (RNCP) are as follows:
Post-Master's Degree – Corporate Digital Architect
Post-Master's Degree in Information Systems and Networks Management
Post-Master's Degree – Network and Cybersecurity Architect
Since all the eligibility conditions for training programs have not yet been established, please contact training program assistants for more information.
Professional training contract
For students under the age of 26 and individuals of any age registered with Pôle Emploi (French Employment Agency): The professional training contract is a work-study employment contract between a private sector employer and an employee, which complies with several criteria.
You may request our professional training contract information kit for companies who plan to hire you.
CIF to become the transitional CPF
Starting in 2020, the Individual Training Leave (CIF) will be replaced by the transitional personal training account (CPF de transition).
Since all the eligibility conditions have not yet been established, we suggest that you contact your branch of the Fongecif, which runs the program. For the Ile de France region: www.fongecif-idf.fr
Bank loans
In partnership with Télécom Paris, BNP Paribas offers low-interest loans to students in Post-Master's degree programs. Students from Morocco and Tunisia may also benefit from offers from partner banks: BMCI and UBCI. Contact: Leila Ougouti – ougouti@bnpparibas.com
Individuals registered with Pôle Emploi (French Employment Agency)
Individuals who have registered with Pôle Emploi may also be granted an authorization to request training, which allows them to continue to receive unemployment benefits throughout the course of their training. This request must be submitted to your Pôle Emploi counselor at least 15 days before the beginning of the training program. The person in charge of business and administrative services for the Post-Master's degree program can upload our quote to the Pôle-Emploi website.
Interested in the program?