Develop a tactical and strategic vision of Information Systems
Part-time | Paris and Cergy-Pontoise
Develop a tactical and strategic vision of IS
Manage IT cybersecurity for the company and its stakeholders
Governance of information systems to support the digital transformation of your company
Drive IS with an agile project method
A unique training focused on IS governance
With the digital age, the professions linked to information systems are evolving. New issues are emerging around Big Data, cybersecurity of information systems governance, Cloud, IoT … and companies are looking for new skills. Information systems support the company's business activities and enable communication between the players. Their diversity and complexity require technical, managerial, human and financial skills that are part of the transversal nature of projects, dematerialization, automation and intermediation.
The Specialized Master® Management of Networked Information Systems is aimed at students or professionals wishing to integrate IT or digital management services to reinvent their profession with the networking of information systems and their technological evolutions.
On a part-time basis, this Specialized Master® provides, through real and concrete applications, a solid professional training to master the managerial problems related to the networking of systems and to understand all the interrelationships. This course includes group work, work on real cases, problem solving, application exercises, group projects, simulation games and e-learning.
Meetings organised throughout the year by the two schools enable students to exchange with experts on concrete issues that add to the real-life experience provided by the part-time rhythm that keeps a link with professional life.
One curiculum, two complementary and powerful institutions
Télécom Paris and ESSEC Business School, two prestigious academic institutions, have combined their skills to offer high-level teaching based on the excellence and richness of the training of professors, the value of their research, their professional experience and their international dimension.
A unique training that links strategy and operations with the choice between two alternative paths. The MSIR programme comprises 60 days of courses (plus two days of study trips), a common core of 50 days and two possible paths each consisting of 10 days.
The first path, digital project management, focusing on the different skills related to project management.
The second course reinforces the skills linked to digital technology but also focuses on the audit and evaluation of information systems.
This Specialized Master's degree combines digital expertise with managerial, strategic, organizational and financial skills, and allows students to live intense and stimulating experiences, thanks to a pedagogy that articulates academic learning, project realization and professional mission.
Contents of the two optional courses :
The first course dedicated to the management of digital projects includes five days of project management, notably to prepare for PMP® certification, an introduction to project portfolio management and two days dedicated to the management of projects with litigation risk.
The second course includes five days dedicated to the « digital week competition ». The students are integrated into multidisciplinary teams as consultants and exposed to real business issues in the field of digital, whether it be marketing, transformation or business model. This same group of students also has a three-day training course in auditing and evaluating information systems based on the COBIT standard.
A double skill to master the complexity of IS
Within the Information Systems Department (IS), the Manager of Networked Information Systems (MSIR) is involved in the IS project management teams. He or she participates in the design and implementation of IS, from the feasibility study to the start of production. Depending on the size of the company and the project in which he is involved, he works alone or in a team. Depending on his experience, he takes responsibility for the project (quality, planning and deadlines), the budget (costs, resources) and the team thus formed.
Within a company's management team, he is involved in IS project management. He participates in the definition of needs, the choice of solutions, the definition of the scope of the IS, the qualification and the functional « acceptance » of the solutions developed or parameterized by the internal or external project management. Depending on his experience, he takes responsibility for the IS project management and the team thus formed.
Mastering IT solutions and digital transformation requires :
project management skills (budget control, conducting meetings, team and stress management… ;
the ability to apprehend a tactical and strategic vision of the IS;
mastery of a significant regulatory environment (Commission Informatique et Libertés, Basel III, GDPR, etc.);
knowledge of precise reference systems (ITIL, CMMI, COBIT, etc.).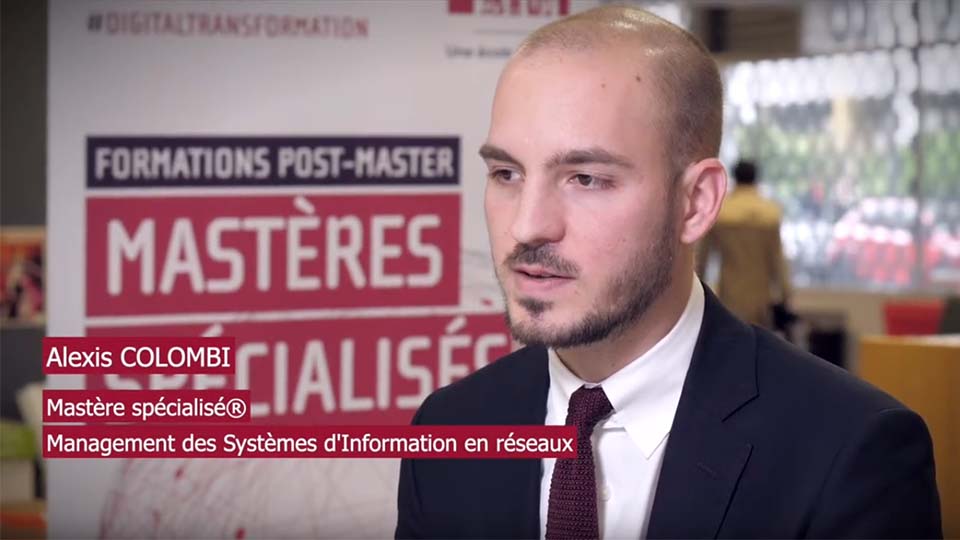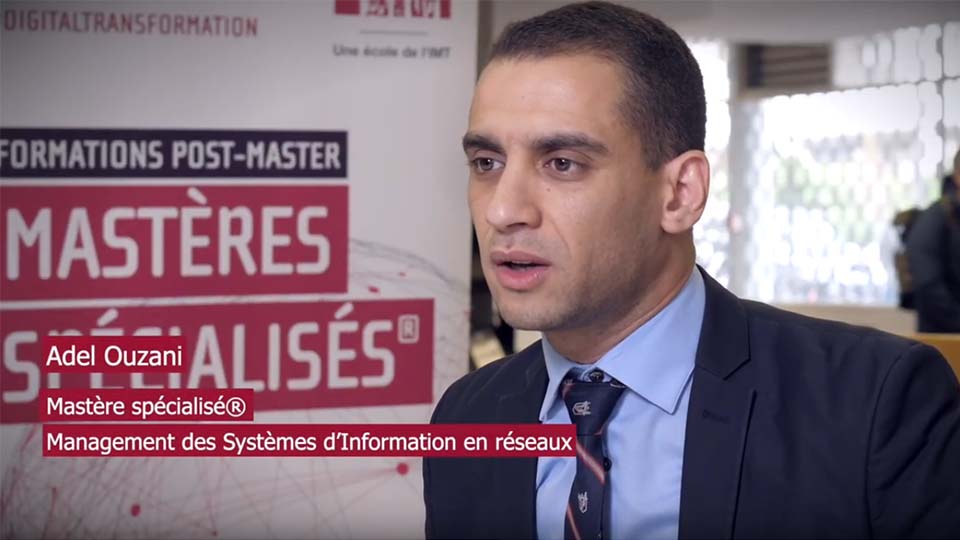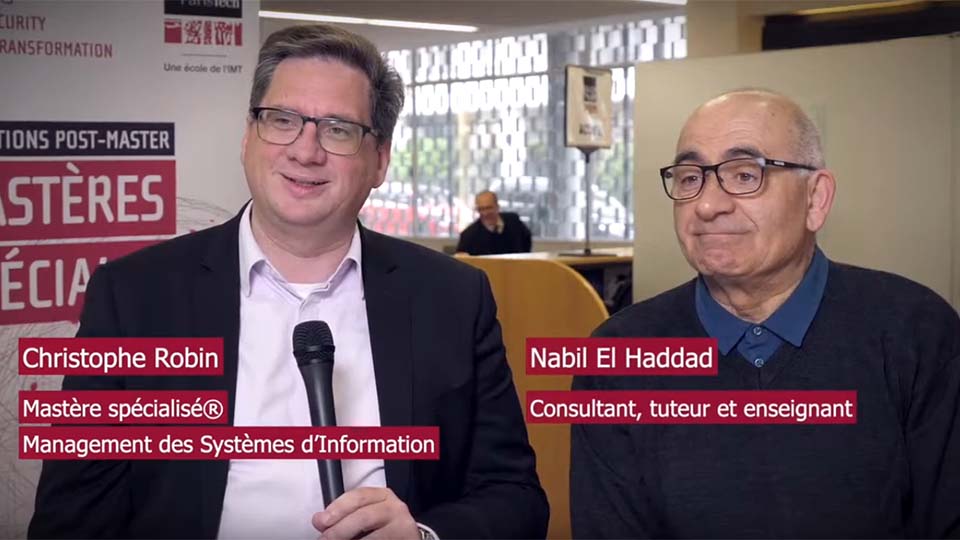 Program
The training lasts 14 to 16 months:
10 months of part-time courses: 1 week of classes per month (6 days) from October to June, divided between ESSEC Business School (Cergy Pontoise), Télécom Paris (Paris) and the rest of the time in the company.
4 to 6 months of full-time professional thesis assignment in a company, from July to December (+ 1 week of exceptional courses in September).
The mission in a company can be carried out within the framework of a professional activity.
The training can be performed through the VAE program (Validation of Acquired Experience). More details: https://www.telecom-paris.fr/fr/formation-continue/vae
[frame type= »1″ height= »auto » ]Pedagogy: a study trip abroad to extend one's networks – Team projects to experiment group dynamics. – A professional thesis of 4 to 6 months in a company to confront practical experience and conceptual reflection [/framework] [/framework].
Education
Module 1: Developing the IS strategy
Concepts and methods of an IS strategy
Managing a project portfolio
Design of a service catalogue
Outsourcing
SI Merger
Cloud and connected objects
Governance
Digital marketing
Module 2: Transforming the organization
Analysis
Representation
Improvement
Dematerialization of business processes
Actors in the value chain
Module 3: Transforming the IS
Urbanisation
Network architecture
Web services and SOA
Business Analytics
Module 4: Transforming with people
Communication
Team management and personal development
Change Management
Module 5: Controlling the IS
Risk analysis
Security
Audit and evaluation methods
Financial steering
Creating a dashboard
Optional course: 1 – Management of digital projects
Optional course: 2 – Digital and Auditing
Study trip abroad
From 3 to 4 days, the study trip is an opportunity to meet professionals and to confront the programme's contributions with emblematic situations. Students have travelled to Dublin, Stockholm, Copenhagen and Munich to meet Google, CityJet, Danske Bank, Allianz and Nokia.
Professional Theses
The professional thesis is a privileged means of acquiring knowledge and the opportunity to put into practice, during an assignment in a company, the methods, techniques and tools studied during the course period.
Example of defended theses :
Andersen Consulting: Approach and methodology of internal control in SAP environments.
Bouygues Construction: Optimisation of QoS on the Bouygues Construction network.
Cerri Consulting: Urbanization of Dell's operational and financial management information systems.
Eurinter: Improvement of the sales process to investors within the group.
Shell Direct: Integration of mobility in the business process (BPR).
SFEIR: IS strategy for the AGF group's general agents in the face of competition.
Seagus: What impact does the blockbuster have on the financial industry?
Christian Dior: The Open Innovation approach at the service of the digital transformation of the company.
Graduates join large companies to ensure the cross-functional operational coherence of business lines on digital projects.
They hold the positions of director or person in charge of information systems, consultant, information systems planner or architect, or information systems security officer (CISO).
They are in charge of steering, strategy, IS management, digital transformation projects, project portfolio management, IS security management…
The trades prepared by the Post-Master Degree System Information Manager:
IS Consultant
Project manager in project management or project management
Director or Head of IS
Urban planner SI
SI Auditor
IS Engineer or Architect
IS Security Officer
According to a survey conducted by ESSEC:
70% of graduates hold a position with an international dimension.
75% of students found their first job before graduation.
81% of graduates found their first job within 2 months.
This Post-Master Degree allowed me to link the business and technological aspects of the IS allowing me to intervene today on organizational issues related to digital transformation. [/quote]
Contact and brochure request
Sabine Seynou

Contact for Post-Master's Degree in Information Systems Manager

Télécom Paris

email

email
The information collected here are subject to a processing by the Post-Master Degree Direction at Télécom Paris in order to respond to your information request. Such information can be used for internal statistical purposes and will be maintained for 1 year. The data controller is Télécom Paris.
In accordance with the Regulation (EU) 2016/679 (General Data Protection Regulation), you may exercise your rights of access, rectification, deletion and opposition to your personal data by writing to: dpo@imt.fr.
Sylvie Vignes

Co-responsible for Post-Master's Degree in Information Systems Manager

Télécom Paris

email

email
Isabelle Wattiau

Co-responsible for Post-Master's Degree in Information Systems Manager

email

email