Teaching through research, i.e. understanding today's solutions in the light of the developments envisaged by the research work.
This training is registered in the National Directory of Professional Certifications (Order of 11 July 2018 – Journal Officiel) for 5 years.
A work-linked training course that allows you to be confronted with business issues and to apply the acquired knowledge in a concrete way while keeping your job (6 course days per month).
Students in pursuit of studies: in one year benefit from both one year of professional experience and a diploma from a top school that makes all the difference.
The Web professions are constantly renewing, multiplying and specialising. The training of digital architect meets the need of companies to recruit digital specialists. As a technical expert, he is the first speaker on major architecture projects for networks and telecommunications services involving the consistency of applications, interfaces, platforms and various players.
The Specialized Master in Digital Enterprise Architecture (RNCP title) Bac +6 allows students to acquire both technical and business skills. Thanks to a unique methodology, based on a plurality of domains, it offers a transverse view of all aspects of the digital transformation of companies: « As A Service », Cloud, Fog, Dew, Big Data, IoT, Cybersecurity and Virtual Reality.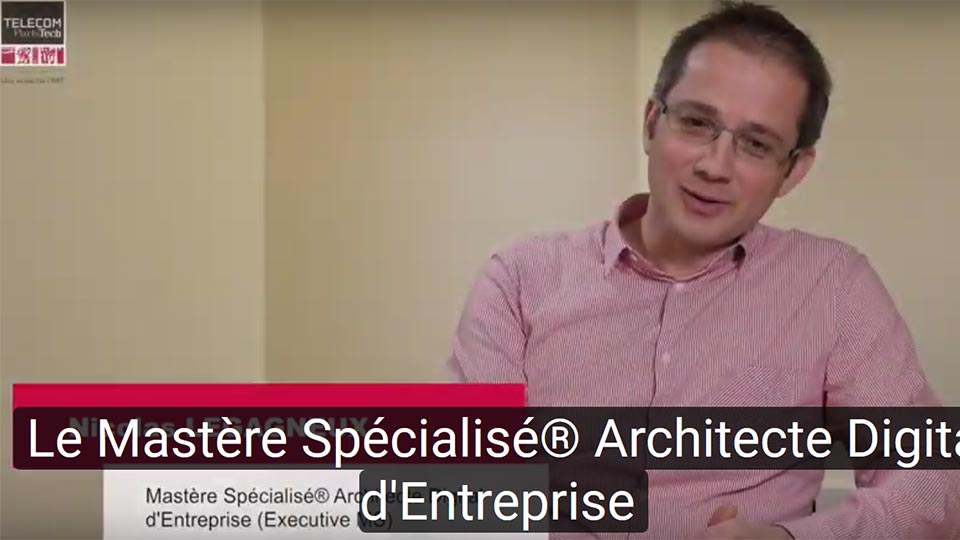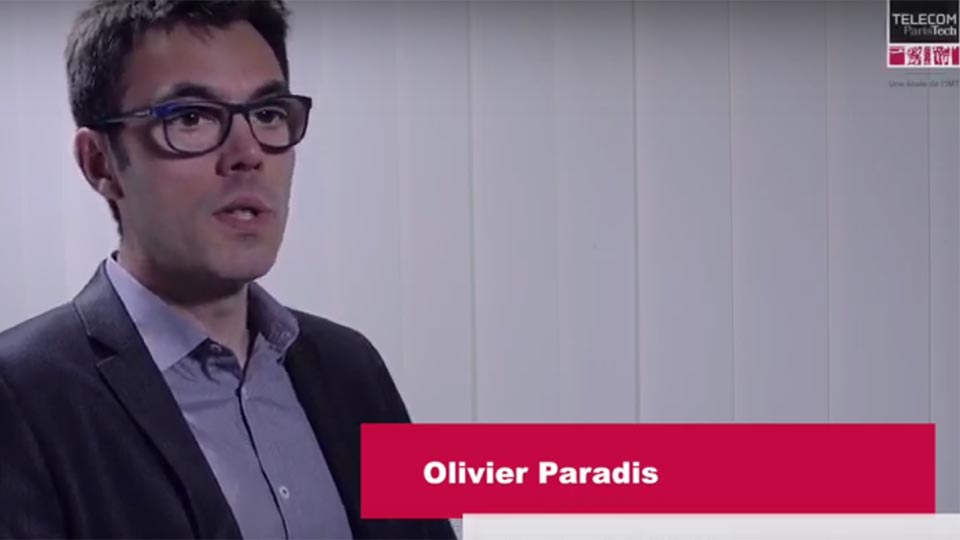 Training in a profession of the future, a driving force for innovation
Acquire the technical and business skills to integrate all ICT, network, IT, telecommunications and services issues.
Become a key player in the digitalisation of companies by deploying new service and network architecture solutions.
This training is registered in the National Directory of Professional Certifications (Decree of 11 July 2018 – official journal) for 5 years.
The approach adopted with the Specialised Masters® Digital Enterprise Architect favours teaching through research, i.e. understanding today's solutions in the light of developments envisaged by research work.
Télécom ParisTech is working closely with the Institut Mines-Télécom to create high-level open online courses (MOOC) on digital technologies.
These MOOCs deploy an innovative pedagogical approach offering collaborative distance learning and are a very good complement to traditional training courses. For example following the course :
Program
The program takes place over a 9-month training period in alternation (6 course days/month) followed by a professional thesis internship of 4 to 6 months. This course is completed by a team project.
Pédagogie
Team projects to experiment with group dynamics.
A professional thesis of 4 to 6 months in a company to confront practical experience and conceptual thinking.
Teachings
Personal development: presenting a project, writing actionable writing, improving meeting productivity.
The client at the heart of architecture: client and architecture, use and design, legal, marketing and finance.
The architect in the enterprise: governance, processes, requirements management and UML, implementation workshop and synthesis.
Technologies – service-oriented architecture components: HMI, equipment, networks, software, infrastructure, security, performance, service platforms.
Architecture repositories: notions of urban planning, presentation of known architectures – those that have proven themselves and the most innovative (IMS, Cloud computing, big data architectures, etc.).
Service management: steps and tools for the implementation of a new service from its creation to its termination, always with a concern for customer perception.
Solution design: macro design, discovery of an urbanism, critical analysis of architecture solutions in order to optimize robustness, performance and costs.
Strategy and prescriptions: synthesis of the MS, from the prescription of the architecture to its validation according to the global strategy of the company.
Red thread project
This project places a group of students in a professional situation to put into practice the knowledge they have acquired. The projects are proposed by large companies and are carried out in groups and supervised by the pedagogical managers. They are always based on real data and problems of companies.
Team project
Students have the opportunity to complete two team projects during the year. These projects allow them to :
To put themselves in a real situation (project manager, expert in a field…) ;
Propose an innovation with its business plan;
Propose a migration orientation
Professional thesis
It represents both a privileged means of acquiring knowledge and an opportunity to put into practice, during an internship in a company, the methods, techniques, tools and approaches studied during the course period. It offers the opportunity to confront practical experience and conceptual reflection. When the problematic of the thesis is linked to a concrete aspect, which is often the case, it must however present a sufficient theoretical level.
Examples of professional thesis defended after a period of 4 to 6 months in a company :
Understanding the mechanisms of audiovisual broadcasting provided for in the 4G or EPS
Study and implementation of operating tools for a Communications Cloud
IP convergence at the service of a hospital's patients
Application Migration and Integration on a Virtual Private Cloud
MVNO as a service
SOA: study Web Services, make a prototype and write a prescription
Careers
Main recruiters: Large companies, web agencies, construction, commerce…
According to a Télecom Paris survey of former graduates:
95% are satisfied with the training
40% of graduates were financed under a professionalization contract.
90% consider that their job corresponds to their level.
60 % have an activity related to international activities.
Graduates of the Specialized Master® (MS) Digital Enterprise Architect have 4 main types of activities:
They are in charge of the design of a telecommunications architecture, guaranteeing its technical feasibility and the associated quality of service (QOS).
They accompany industrialization and provide technical and economic support for marketing.
As architectural consultants, they design architecture based on the client's needs.
Driving forces in the implementation of innovations, they prescribe the implementation of emerging technologies in order to industrialize them as quickly as possible.
Their job:
Enterprise Architect, Service Platform Architect, Transversal Architect, Functional Architect / IS Technology, Network Architect, IT Project Manager, Urbanization Architect, Technical and Economic Support Consultant on telecom architectures.
The companies that recruit our graduates:
Orange, Luceor, Arismore, ANSSI (National Agency for the Security of Information Systems), Murex, Softeam, Alcatel-Lucent…
Companies that have placed their trust in our graduates:  Orange, Luceor, Arismore, ANSSI (National Agency for the Security of Information Systems), Murex, Softeam, Alcatel-Lucent.
Contact and brochure request
Marliacy Catherine

marliacy

Catherine Marliacy

Référente des étudiants/CoordInatrice des études

Télécom Paris

Tel : 01 75 31 96 19

email

email
The information collected here are subject to a processing by the Post-Master Degree Direction at Télécom Paris in order to respond to your information request. Such information can be used for internal statistical purposes and will be maintained for 1 year. The data controller is Télécom Paris.
In accordance with the Regulation (EU) 2016/679 (General Data Protection Regulation), you may exercise your rights of access, rectification, deletion and opposition to your personal data by writing to: dpo@imt.fr.
Simoni Noemie

simoni

Noëmie Simoni

Professeur émérite

Télécom Paris

email

email
Khatoun Rida

khatoun

Rida Khatoun

Maître de conférences

Télécom Paris

email

email
Msahli Mounira

msahli

Mounira Msahli

EC en cybersécurité

Télécom Paris

email

email