The different spaces and equipement of the library
The CRDN is composed of 3 big spaces (capacity of 157 seats), 11 collaborative rooms (1 for 10 people, 3 for 9 people and 7 for 5 people) and 1 cafeteria with a terrace (capacity of 58 seats).
You can also find 203 plugs and 114 network sockets in the CRDN.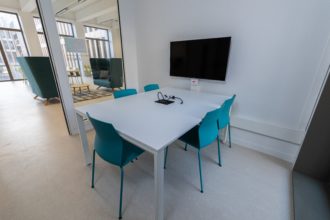 Collaborative rooms are all equipped with:
-digital screen,
-plug connectors,
-whiteboard (you can ask for markers and sponges at the welcome desk),
-coat hangers and shelves for your coat and bags.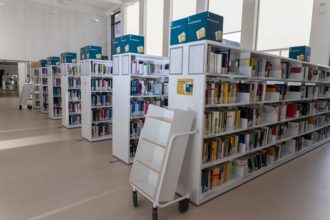 Publication room is the one that you can see when you enter the CRDN:
-2 alcoves inside the shelving units,
-4 tablets,
-1 self service station,
-1 printer,
-1 lost and found box,
-and also "new acquistions" will be on display in this room.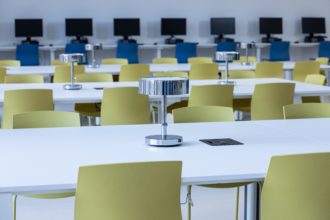 Work space:
-16 computers (2 of them are for external users),
-4 collaborative rooms,
-2 acoustic sofas.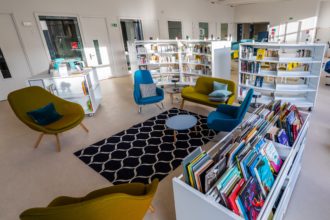 Lounge area:
-2 hammocks,
-4 fatboys,
-4 sofas (2 of them are acoustic sofas),
-armchairs and rocking chairs,
-4 wireless phone chargers and
-7 collaborative rooms.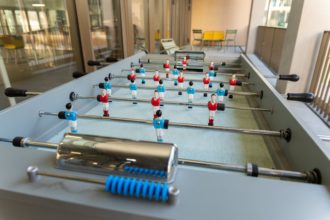 CRDN Cafeteria and its terrace:
-2 sofas,
-2 benches, some couches,
-1 hammock et 1 foosball table,
-1 alcove where you can find journals (Abri'Kiosk) and books (Abri'Bib) donations.
For the foosball balls, you need to ask for them at the welcome desk of the CRDN.