#Debating: Télécom Paris wins an English-language debate match against CentraleSupélec!
14 February 2020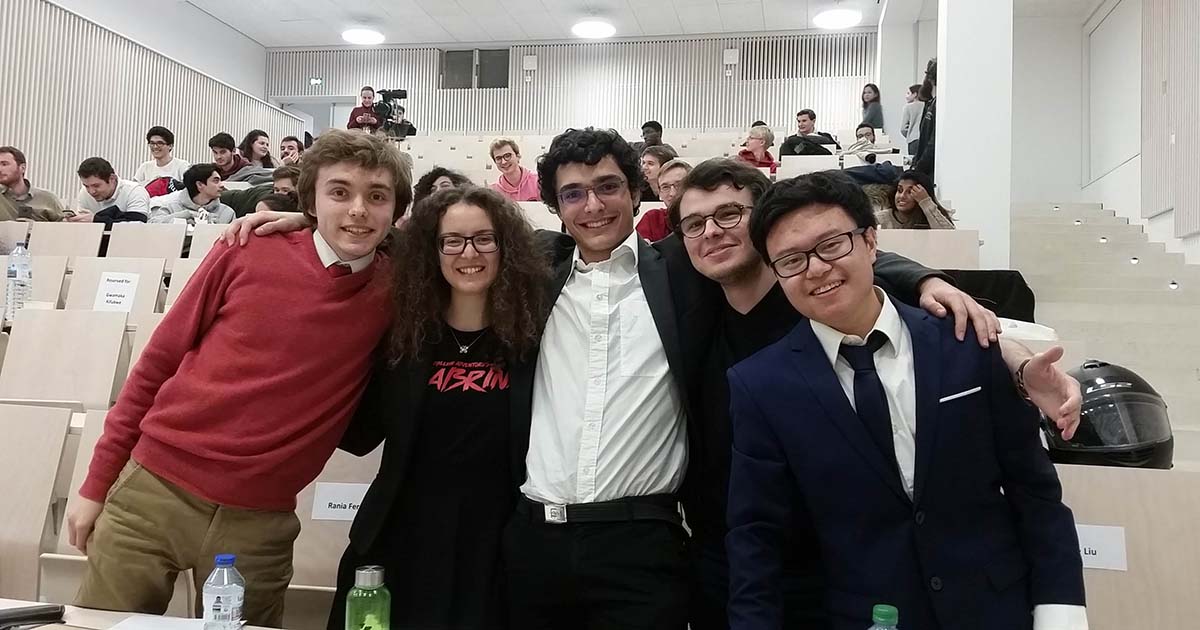 Five students of the Télécom Paris team won their first debate against CentraleSupélec, on February 13th, 2020.
The motion: "This house believes that the voting age should be reduced to 16".
Every year, the French Grandes Ecoles compete in an English-language debate tournament. The format is inspired by the debates of the British Houses of Parliament and, to some extent, the debates of the National Assembly in Paris. The rules of the tournament were inspired by the World Schools Style debating (WSS). Two teams debate a motion, alternating between speakers "proposing the motion" and speakers "opposing the motion". They take turns making fiery six-minute speeches, refuting each other's arguments, with the aim of convincing a jury.
This tournament is engaging and entertaining, but it is also an opportunity to develop skills that are highly useful for our future graduates: mastery of English of course, but also the ability to defend one's point of view, the ability to react quickly to an argument or an unexpected situation, and the ability to present one's arguments in a relevant and convincing manner.
Adame Ben Friha, Yohaï-Eliel Berreby, Rania Ferchichi, David Gérard, and Philippe Liu used their skills to bring victory to Télécom Paris. in an amphitheatre filled with supporters, they convinced the audience that voting should be allowed from the age of 16. Congratulations to the team! Let us also congratulate their coach Bethany Cagnol and the Languages and Cultures department who accompanied the students in the preparation of the tournament and the boosting of their debating skills.
Many thanks to Mel Burgelis, Sinead Namur, and Maria-Teresa Guilbert, language teachers at Télécom Paris, without whom this event would not have been possible. And a big thank you to Nicolas Glady, director of Télécom Paris, chairman, who presided over the evening.
The next debate will take place on 26 February,  2020, against ENSAE.
The final will take place in the spring at the French he National Assembly. Last year Polytechnique won the tournament. Let's hope that the trophy will remain at IP Paris in 2020 thanks to our brilliant team.
Good luck for the rest of the tournament!
Photographs by Maria Teresa Guilbert and Zack Oberg