Exotec is a robotics company that grew out of the Télécom Paris incubator. Valued at two billion dollars, it is, in January 2022, the 25th French startup – and the first French industrial company – to become a unicorn, the first to grow out from the Télécom Paris incubator!
A unicorn is a young, innovative, privately-owned company that is valued at over one billion dollars.
What is Exotec's project and vision?
Following Amazon's decision to keep for itself the revolutionary Kiva robot technology for its own warehouses, Renaud Heitz and Romain Moulin, founders of Exotec, decided in 2015 to strive for something better – to design a robotic order-picking system with a fleet of robots capable of moving in three dimensions: the Skypod.
"Exotec's project is to become the leader in robotic warehouses. We have therefore created Skypod, which allows retailers to have the best performance in their warehouse, while maintaining extreme flexibility in an ever-changing market.
Exotec is now broadening its scope of action and delivering complete robotic warehouses, thanks to the different components that we have developed based on the key success factors of Skypod."
– Romain Moulin, co-founder of Exotec
How did the Télécom Paris incubator help Exotec?
"The Télécom Paris incubator enabled us to benefit immediately from a structure to start working, as well as top quality training, some of the precepts of which are still useful to us in the life of Exotec.
"The incubator also enabled us to facilitate the first fundraising by putting us in contact with its network. Finally, and this is probably one of the most important elements in our opinion, we were accompanied by a passionate and caring team."
– Romain Moulin, co-founder of Exotec
Exotec was fortunate to have its first client, CDiscount, not ask in 2016 for a "PoC" (Proof of Concept, a method of evaluating the feasibility of a project) but for a concrete and operational system from the outset. This is what put Exotec on the right track from the start.
Video interview: Romain Moulin, co-founder of Exotec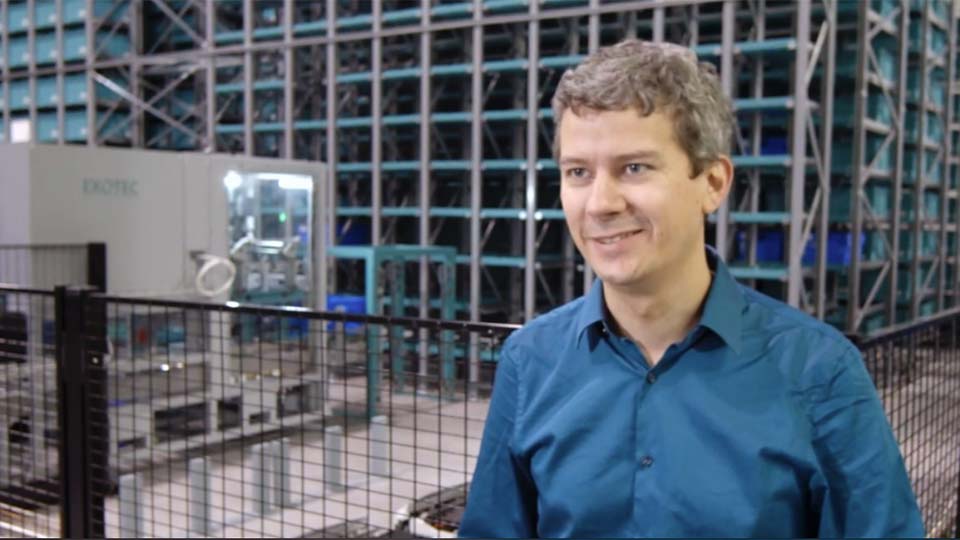 How does the Télécom Paris incubator support companies like Exotec?
"The strength of the Télécom Paris incubator in supporting projects with high technological added value, like Exotec, is that it can intervene across all the key digital themes!
Both in terms of technologies, of course, such as data analysis, AI, robotics, cryptography and blockchain, but also, and above all, thanks to our network, which brings together the best of the academic world and the startup ecosystem, and in particular its funders.
We are thus able to provide strategic, financial, and technological support to address different markets and propel projects like Exotec to the top of FrenchTech!"
– Yann Aprile Bouché, head of the Télécom Paris incubator
What role did Breega play in the acceleration of Exotec?
Breega was one of the two VCs to invest in Exotec back in 2016 having co-led their € 3m seed round.
"I met Romain Moulin and Renaud Heitz, as a jury member of Telecom Paris' incubator.
The combination of pre-seed plus hardware made it a high risk venture. However, we were impressed by the founders' vision and tech. We decided to take a leap-of-faith and invest and I became a board member.
Unlike the majority of VCs, Breega has a full-stack internal operations team that act as an extension of our startups' own teams by providing hands-on operational help and advice. This meant that we started working very early on with Exotec, hiring for them and helping them to structure their team as they scaled, we also provided them with legal advice, business contacts and helped with their communications and PR efforts.
Despite fierce competition in the e-logistics sector, Exotec is growing rapidly. Over the last three years, the company has gone from 30 to 350 employees with a turnover that has grown, in five years, from 700 k€ to 100 M€!  Today, thanks to their $335m Series D round – led by Goldman Sachs and Bpifrance with the continued support of Breega, Dell Technologies, 83 North and Iris Capital – Exotec is now valued at $2bn and has become the first French industrial unicorn.
That was only 6 years ago so it's quite incredible to see how far Exotec has come in such a short time. Breega is both proud and honored to be able to have contributed to their success and is really looking forward to seeing them become a leading e-logistics provider on the world stage."
– François Paulus, founding partner at Breega, graduate of Télécom Paris

Header image source Exotec