Renewal of the agreement with the Universitat Politècnica de València
10 November 2023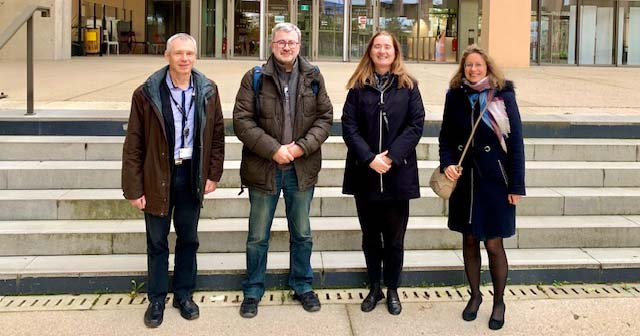 On November 8th, Télécom Paris was pleased to welcome Felipe Peñaranda Foix, Professor and Vice Dean of International Relations at the Escuela Técnica Superior de Ingeniería de Telecomunicación (ETSIT) of the Universitat Politècnica de València (UPV).
The purpose of the visit was to finalize the renewal of our double degree agreement and to interact with students currently enrolled in the engineering program at Télécom Paris.
The double degree agreement between the Faculty of Telecommunications Engineering of UPV and Télécom Paris has been renewed until 2027. This agreement defines the framework for incoming and outgoing mobility of engineering students. These exchanges are supported by the European Erasmus+ program.
After a meeting with Catherine Vazza, Deputy Director of International Relations at Télécom Paris, Felipe talked to Irene Asensio Benedicto and Alejandro Guijarro Monerris, UPV students currently studying a double degree on our campus. Mickaël Bouhier, head of the Fab-Lab, then presented the facilities that allow our students to create digital objects and prototypes, from design to production.
Télécom Paris is delighted to consolidate the excellent relationship it has enjoyed with its Spanish partner for over 14 years.