New prospects for the Institut Polytechnique de Paris following the visit of the VIASM (Vietnam) delegation to Télécom Paris
30 June 2023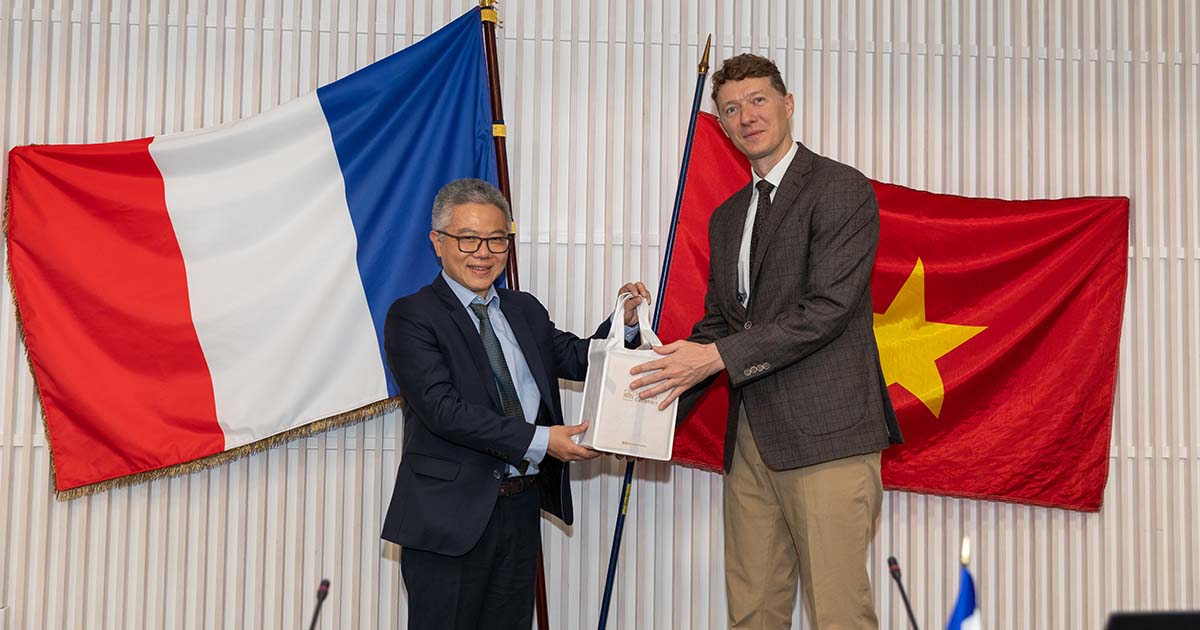 Prof. Bảo Châu Ngô, scientific dir. of VIASM, and Nicolas Glady, Dean & President of Télécom Paris
A landmark meeting took place at Télécom Paris on 19 June 2023 between the Institut Polytechnique de Paris (IP Paris) and the Vietnam Institute for Advanced Study in Mathematics (VIASM). The Vietnamese delegation was led by Professor Bảo Châu Ngô, scientific director of VIASM and awarded with the Fields Medal in 2010. This meeting, chaired by Nicolas Glady, Dean & President of Télécom Paris, strengthens the link between the Institut Polytechnique de Paris and VIASM.
The schools of the Institut Polytechnique de Paris (École polytechnique, ENSAE Paris, ENSTA Paris, Télécom Paris, Télécom SudParis) have for many years been developing collaborations with institutions of excellence in Vietnam. The VIASM visit marks a further step in this ongoing process, strengthening existing cooperation between the institutions.
During the visit, rich and fruitful discussions were held, notably on the modalities of cooperation in doctoral research between IP Paris and VIASM. These discussions confirmed the shared interest in formalising our links through agreements. An agreement between VIASM and IP Paris should be signed in the next few days, laying the foundations for future research collaboration.
This visit by VIASM, which coincides with the 50th anniversary of diplomatic relations between Vietnam and France, is a strong symbol of the positive relations between the two countries.