Visit by a student delegation from Shanghai Jiao Tong University (SJTU)
12 July 2023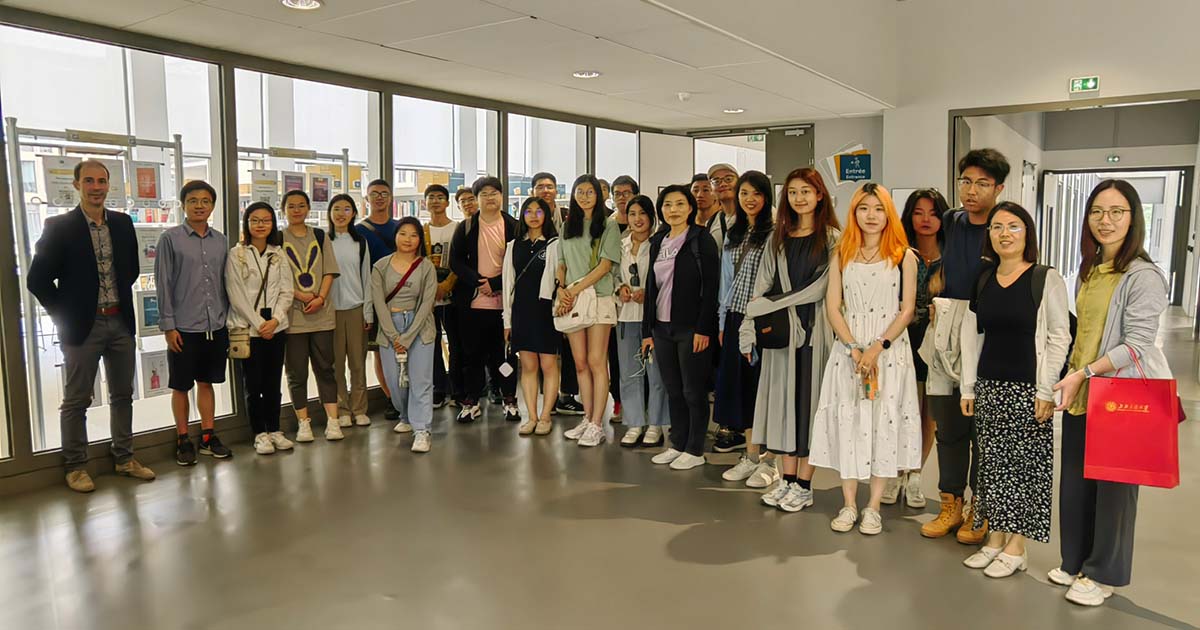 Télécom Paris welcomed some thirty students and members of the administration of Shanghai Jiao Tong University (SJTU) on July 4. The aim of the visit? To explore the Télécom Paris campus and gain a better understanding of the MSc in Engineering training opportunities.
The visit was organized as part of SJTU's Summer Camp in France, which includes visits to academic partners, companies, research centers and incubators, as well as numerous cultural outings. The students, mainly from SJTU Paris Elite Institute of Technology* (SPEIT) and from other Schools of the Chinese university, had the opportunity to familiarize themselves with the French culture and scientific environment over a 15-day period.
Nicolas Prost, international project manager in charge of the Asian zone within the International Relations Department, supervised the visit to our campus, with the help of Chinese students. The tour included lunch at the school's restaurant, a visit to the lecture halls, library, practical and teaching classrooms, as well as the e-lab, fab-lab and design studio.
Five Chinese students on double degrees with SPEIT and doctoral studies at Telecom Paris described their paths and introduced visitors to the various facilities, even engaging them in research experiments. Nicolas explained the Telecom Paris and IP Paris application procedures for the MSc in Engineering. Representatives from the Student Office, Sports Board and International Student Office presented the school's student and community life.
This 5-hour immersion on our campus enabled participants to gain tangible insight into the many facets of our attractiveness. We look forward to welcoming the students who will be selected to join the MSc in Engineering program at Telecom Paris!
* SJTU Paris Elite Institute of Technology (SPEIT) is a Sino-French engineering program co-founded by Shanghai Jiao Tong University (SJTU) and four French engineering schools, namely Télécom Paris, ENSTA Paris, Ecole Polytechnique and Mines Paris. [Also: Télécom Paris celebrates the 10th anniversary of the Paris SJTU/SPEIT engineering school in Shanghai]