Integration of engineering students: a mosaic of multilingual activities...
04 November 2023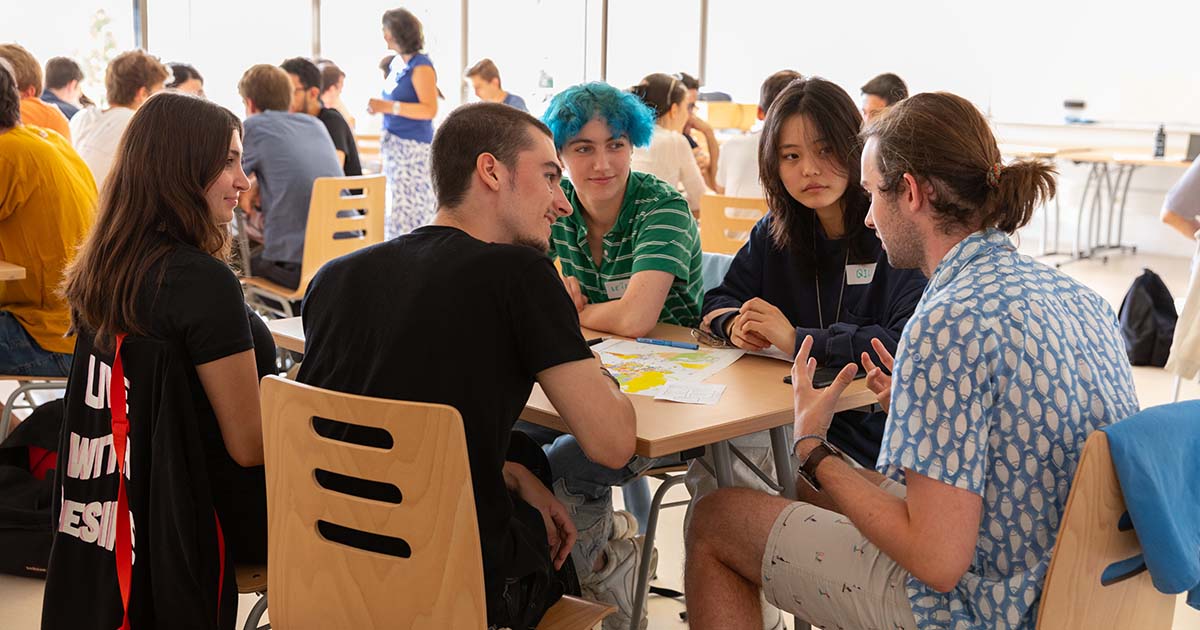 … to get to know other students, better understand cultural differences and see diversity as an asset!
Following on from the treasure hunt, the new engineering students at Télécom Paris were invited to a « Mosaïk and Life Stories » morning organized by the Languages and Cultures Department (LC) in partnership with the Student Services Office (BDE) and the International Relations Department (DRI).
Around 300 new French and international students took part in an entertaining exchange to better understand their differences, be they cultural, linguistic, geographical, social or other. Created by the LC to facilitate the integration of new students from all backgrounds, this morning event contributes to making diversity a source of enrichment on our campus.
After the scavenger hunt, which helped students navigate campus and get to know each other, the Mosaïk and Life Stories morning on September 14, 2023 focused on intercultural and language exchange. About 200 students of the new class of 2026 and a hundred international students took part in these activities. They went to one of the five rooms at their disposal and discussed in groups of 4 or 5 students under the guidance of a duo of language professors, with the participation of the BDE and the DRI.
Mosaic group activities
After icebreaker activities to get to know each other within each group, the students took part in Mosaïk activities, speaking in French and English. They were instructed to switch languages every 7 minutes. They introduced themselves using the world map and then exchanged ideas on topics that led them to discover their cultural differences and similarities and to develop intercultural skills.
Pair Life Story Activities
Students sat in a circle, facing each other 2 by 2. Each student in the inner circle chose a topic related to his or her hobbies (sports, reading, etc.), experiences or travels and told it to the student opposite. The student pairs agreed on the language of communication: English, French, or another language. Every fifteen minutes, the students moved a chair and it was the turn of the students in the outer circle to speak. This activity helped develop listening skills.
Some feedback from international and French students
– « A very useful activity, which enabled us to understand the international dimension of Télécom Paris and to meet other people », a French student.
– « I learned a lot about several countries. It was great because I made new friends and it's very effective in facilitating integration », a Brazilian student.
– « This activity helped me realize the differences in points of view in our societies, which is why it's important to always remain open to different opinions », a French student.
– « It was an opportunity to share cultural differences, get to know other people and discover other countries », a Madagascan student.
– « I met people I might never have spoken to. Thanks a lot! », a French student.
– « I learned a lot about the traditions of other countries and was able to practice my French », a Chinese student.
– « I had a great time chatting with students from all over the world », a French student.
– « After this activity, I feel more comfortable talking to French people », a Colombian student.
– « I learned a lot about the cultures of other countries, and the discussion helped to shake up clichés and gain a better understanding of certain cultures », a French student.
– « An activity that enabled me to talk about my culture and my origins », a student from Côte d'Ivoire.
– « I discovered new people with the same interests as me », a French student.
– « I learned a lot about other students' lives and how different they can be from mine », a Tunisian student.
Discussions between French and international students fostered rich interpersonal relationships, language practice and opened everyone's horizons to different customs, practices and opinions. We hope that all these activities have contributed to a warm welcome for our new engineering students at Télécom Paris.
Photo album
Photographs Michel Desnoues/Télécom Paris