Integration of engineering students: a treasure hunt to link up across cultures!
30 October 2023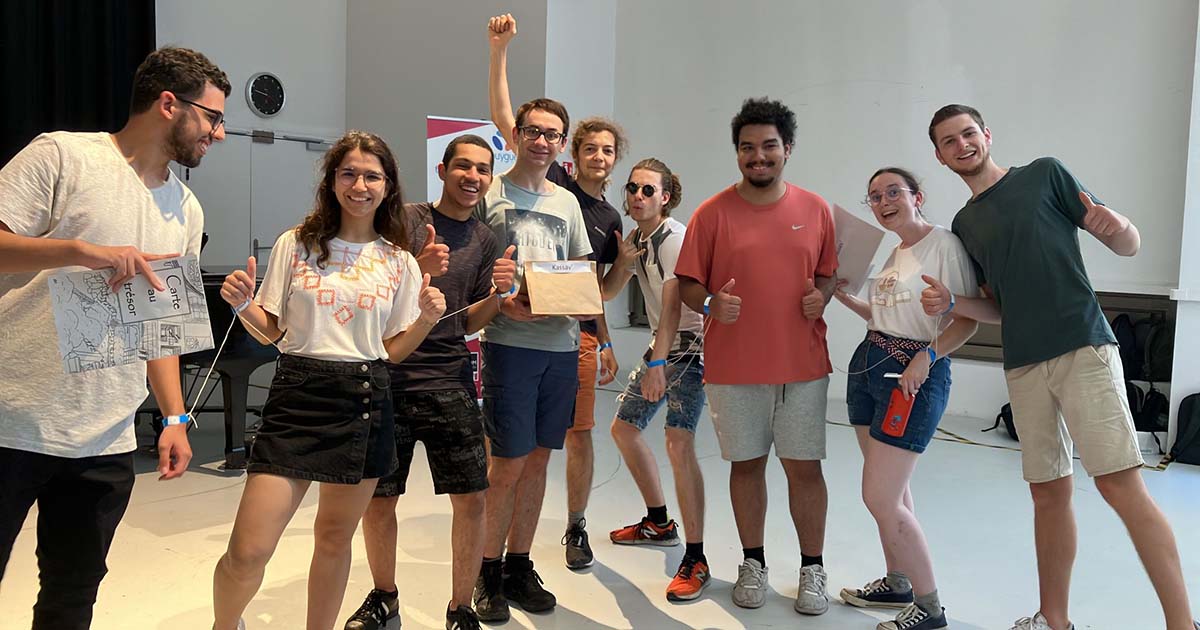 Nearly 300 engineering students took part in a scavenger hunt organized by the Languages and Cultures section (LC) with the participation of the International Relations Department (DRI) on Friday September 8, 2023.
This entertaining activity was designed to facilitate the integration of the class of 2026, particularly its many international students. The treasure hunt is also intended to help discover some of the key spots in student life at Télécom Paris. It is complemented by « Mosaic and Life Stories » activities a week later.
After the Integration Weekend (WEI) organized off-campus by the BDE and for all those who were not there, the treasure hunt enables new students to find their way around the campus and get to know each other better. Of the 314 students expected, 281 were able to take part in the activity, including around a hundred international students. They came from 18 countries in Africa, Western and Eastern Europe, the Middle East, North Africa and the Americas.
At the amphitheater briefing, the students were divided into 30 teams; each assigned a different musical theme. They had to tie themselves to each other with a cord – following "IKEA-style" instructions – with the mission of completing eight challenges, without separating! They received envelopes containing clues to five of the eight locations where challenges awaited them, almost all of which were performed to the sound of music.
The 8 emblematic locations and the associated challenges
– Stairs from Lozère metro station to campus: One student does a headstand, helped by the rest of the team.
– Ferme de la Vauve: Perform a country dance.
– Grand Hall: Present a group choreography to music.
– CRDN (library): Take a photo highlighting our library's assets.
– Bakery Panifique: Sing a conversation between a customer and the bakery staff.
– Franprix supermarket: Take a photo of a specific food mentioned in the song « Les Cornichons » by Nino Ferrer.
– Green pavilion in front of the main entrance: A student teaches a song to the others (in any language except English and French).
– La Troche quarry: Posing as if the team were in the middle of a rock concert.
Discussions in different languages and the completion of challenges in « close-knit » teams enabled students to apply interpersonal and intercultural skills of cooperation and teamwork. The organizers of the treasure hunt, Marya Lusky and Zachary Oberg, as well as the whole LC team and the DRI, hope that it was a great time of exchange and enriching discoveries for all involved.
Photo album