"Bienvenue en France***" label by Campus France
Télécom Paris has been awarded the "Bienvenue en France" label by Campus France, with the maximum rating of three stars.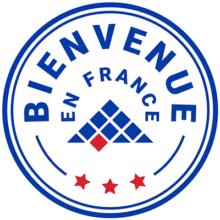 Campus France's "Bienvenue en France" label enables international students to identify establishments offering services that facilitate their studies and professional integration. This label recognizes and certifies the quality of the welcome and guidance services provided to international students at Télécom Paris.
The « Bienvenue en France » label from Campus France
(a public institution responsible for promoting French higher education abroad and welcoming foreign students and researchers to France) is part of the strategy to develop the internationalization and attractiveness of higher education in France. It distinguishes institutions that have set up welcoming policies for international students. The certification thus validates concrete measures and actions concerning the daily life of international students at Télécom Paris, including in particular support on arrival and help with administrative procedures.
The label is a guarantee of quality recognized and certified by the French State and is awarded for 4 years (2023-2027). The evaluation is carried out using twenty indicators divided into five main themes:
The quality and accessibility of information,
The quality and accessibility of reception facilities,
The accessibility and support of teaching,
Housing and quality of campus life,
The quality of post-graduation follow-up.
The three-star rating obtained by Télécom Paris means that our institution meets all the indicators of the label.
The label rewards, in particular, a series of actions implemented at Télécom Paris to welcome international students:
"FLE" courses, welcome days
An intensive summer course in French as a foreign language (FLE) is organized with our partner Cavilam – Alliance Française.
Several days of academic induction take place with presentations of the school and the program, assessment of levels in French and English; including a tour of the campus and a program of fun activities to welcome and familiarize students with their surroundings. More about the integration.
Assistance with administrative procedures and accommodation
before their arrival is provided via a dedicated webinar and then daily support, in particular with a referent for visa applications. A partnership with Sciences Accueil completes the service. Sciences Accueil offers a multiservice platform (GATE) that allows students to complete most of the formalities related to settling in France, in collaboration with the CPAM, CAF, the Palaiseau Prefecture, etc. GATE has several offices in Palaiseau, including one on the campus of the Institut Polytechnique de Paris. More about GATE.
Programs in English
A Buddy program
set up by Télécom Paris in 2021, enables each international student admitted to the MSc in Engineering to be accompanied by a student from the program who can be asked to help them integrate in France.
The GATE Welcome Desk from Science Accueil
The GATE (Guichet d'Accueil des Talents Etrangers = Foreign Talent Welcome Desk) is a multi-service platform that offers a "one-stop shop" for you to carry out the majority of formalities involved in your move to France, offering both a physical space and digital tools for organisations such as the CPAM, CAF, Palaiseau Pré fecture, etc.
In general, the GATE is open from late August to mid-December and has multiple offices in Palaiseau (including one on the Institut Polytechnique de Paris campus).
During the rest of the year, Science Accueil can help you with your administrative procedures or problems.
Integration at Télécom Paris
The students and staff at Télécom Paris work together to offer you the best possible welcome in September, as well as all year long.
Many events are organised, such as the integration weekend (WEI) and other themed weekends. There are also plenty of evening events, including the "International Village" and "French Village" (where you can try delicious food), plus no shortage of sports and student association events.
In September, Télécom Paris holds orientation activities aimed to help you discover the campus, Paris and the greater region, as well as to let you get to know each other and discover other cultures.
The Student Union offers a multitude of clubs and associations that you can join. If you don't see your activity represented, you can always create an association to develop it. The offices for clubs and associations are found in the Common Room (Le Foyer).
All associations and clubs are listed in the Alpha brochure.
How to get there?
Find out how to get to the Télécom Paris campus from the Massy-Palaiseau RER station.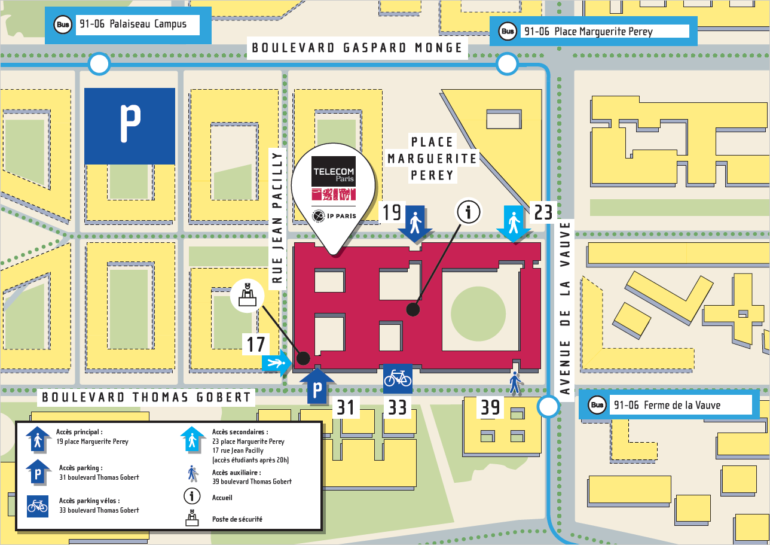 Find out more about the location of Télécom Paris
Finding your way on campus
Here are the maps of the different building floors.
You can also download the Institut Polytechnique de Paris (IP Paris) app to find your way more easily on campus.
In the surroundings
Find out more about options for housing, food & drink, shops and services:
In our welcome booklet, you'll find information about all your contact people at Télécom Paris:
The International Relations Department (DRI), including the Residence Permits Assistant
The Dean of Studies (DE) as well as your pedagogical and administrative contacts
The Languages and Cultures Department
The Corporate Relations Department (DRE) and contacts to help with entrepreneurial projects
The Centre for Documentary and Digital Resources (CRDN)
The Housing and Campus Life / Student Life Department (including the Disability Officer)
The psychologists and social worker (available for appointments with students)
The Student Union (BDE)