Repères biographiques
Short Biography
Activités :

enseignement,

recherche,

projets
Activities :

Teaching,

Research,

Projects
Research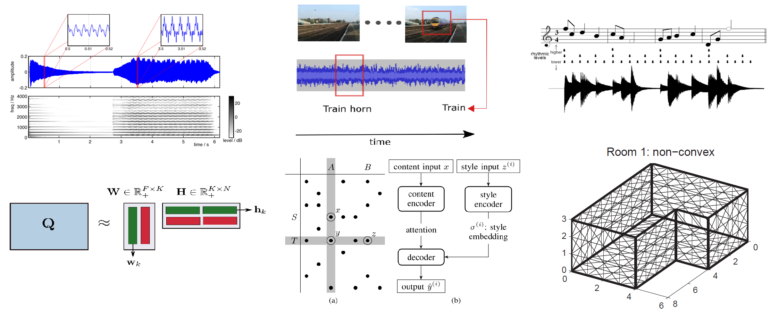 My research interests are mainly in the field of machine learning and speech/audio signal processing and include topics such as:
Signal representations and signal models : Subspace methods, sparse representation, atomic decomposition, Non NEgative MAtrix factorisation (NMF), Source Separation…
Machine learning methods for audio/music signals : machine listening, Music Information Retrieval (MIR), Audio/Music indexing, Speech/audio segmentation, Speech/music emotion recognition.
Models for multipitch estimation in polyphonic music signals, rythmn/beat estimation,musical instrument recognition
Audio Coding and 3D Audio
Multimedia and speech signal analysis, speech synthesis
Teaching
Main courses include:

Talks / Seminars
A selection of talks….:
Keynote talk at Dafx'2022: "Hybrid deep learning for audio", Sept. 2022, Vienna, Austria.
Talk at award ceremony National academy of sciences "Analysis, transformation and recognition of audio signals", November 2020, Paris, France.
Invited talk "Machine listening: AI for sounds and music", Colloquium Colloque IMT – L'intelligence artificielle au coeur des mutations industrielles (slides in English), April 2019, Paris, France.

Keynote talk at DCASE'2016, "Acoustic scene and events recognition:
how similar is it to speech recognition and music genre/instrument recognition ?, Sept. 2016, Budapest, Hungary.

Keynote talk at IWAENC'2014, "Melody Extraction from Polyphonic Music Signals", Sept. 2014, Nice, France

Invited talk at AES 53rd Conference on Semantic Audio :"Informed Audio Source Separation",  Jan. 2014, London, UK
Keynote talk at WIAMIS'2012, "Audio and Multimedia Music Signals Indexing, May 2012, Dublin, Ireland
Interrogation du serveur HAL en cours...
Waiting for HAL server...